Amsterdam is famous for biking and we want to give everyone the opportunity to explore the city by bike. Move through the city like the locals do! The price to rent a bike depends on the type of bike and the number of days you'd like to rent the bike for.

Cycling in Amsterdam
For renting a bike in Amsterdam, we recommend to contact Starbikes Rental directly. This bike rental shop is located nearby Amsterdam Central station.

Cycling in the Netherlands
If you would like to have a bike delivered to your accommodation anywhere else in the Netherlands, please contact us. You can fill out the booking form on this page. We will ask you for the details of your location and find out which supplier has the requested bike available. Prices are on request.
Fun2Go bike - side by side This bike has two seats. One person is obliged to cycle and the other can just sit and enjoy Amsterdam or cycle along. This bikes allows people with less mobility to see the city from a bike, but is also suitable for people that are blind or have a visual impairment and for people that are deaf or hard of hearing.

O-Pair bike
This wheelchair bike is a double bike with a comfortable suspension chair in front of the steering wheel. The big advantage is that the front is easily disconnected from the bicycle part, so it can be used as a wheelchair on location. Several 'tubs' are placed on the front to meet the specific requirements of the users. With the help of optional power assistance, cycling will be even easier on this modern designed wheelchair bike. ​

VeloPlus electric bike - wheelchair platform
This transporter bike is especially suited for wheelchair users who remain seated in their wheelchairs while riding. Convenient tilt ramp allows the user to easily reverse onto the wheelchair bike. With easy and safe locking the wheelchair transporter is quickly ready to use. The special construction ensures stable handling and comfortable cycling. A wide variety of wheelchairs fit onto the Velo Plus, making this wheelchair bike well suited for homes or institutions.

Tricycle This bike for adults has 2 wheels in the front and one on the back. For people that have difficulties with balance, this bike is perfect. It has a low frame to make it easier to get on the bike.

Firefly - motorised wheel for your wheelchair (Amsterdam only)
The Firefly is an electric handbike that can be attached to your wheelchair. Go twice as fast and twice as far! You can rent the Firefly with a wheelchair or you can attach the Firefly to your own wheelchair. The mechanics will help you attach it to your chair. Tandem bike / twin bike
If you have experience cycling and would like to explore the city on a shared bike, the tandem or twin bike is a good option for you.

Electric bikes;
different types of electric bikes are available to rent throughout the Netherlands. Regular bikes & accessoires
In addition to renting a special needs bike, it's also possible to rent regular bikes, children bikes or child seats.
Accessible no steps Accessible restaurant or terrace
Where will I stay?
When renting a bicycle to use throughout your stay, it's a good idea to choose an accommodation where you can park the bike safely. Preferably, the bikes are parked inside. If that's not possible, it's okay to park the bike on the property of the accommodaiton; in front of your holiday house, in the garden, in the parking lot or at a dedicated bike parking place.

The accessible Holland cycling holiday
We offer holiday packages that includes bike rental for all days and a hotel located in the country side, surrounded by great bike lanes! With this holiday, you can stay in hotels at following two locations;

Beemster World Heritage Site (north of Amsterdam)
Hoge Veluwe National Park (between Arnhem, Amersfoort and Apeldoorn). The holiday includes:

Stay at hotel with accessible hotel room(s) and breakfast (lunch and dinner optional) Delivery of special needs, regular bikes and/or mobility scooter Maps with accessible bicycles routes.
When you send us a request, we will check availability with our suppliers. The price depends on the type of bike and the number of rental days.If you only want to rent a bike in Amsterdam, and not book a cycling tour, you can request the bikes directly with Starbikes Rental. The address of the pick-up location is De Ruyterkade 143. If you would like to have a bike delivered at your accommodation in Amsterdam or another location in the Netherlands.
Accessible Travel Netherlands
Request a non-binding travel proposal for your dream holiday to the Netherlands.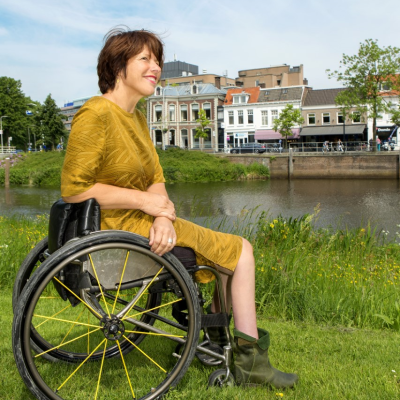 All our mobility equipment