Need a wheelchair during your stay in The Netherlands? We can deliver anywhere in the country. The wheelchair is delivered at your accommodation.

The following types of wheelchairs can be rented:
light weight foldable wheelchair, seat width 45 cm
wheelchair with large seat of 55 cm
wheelchair XL seat with seat of 65 cm
wheelchair for children

Prices includes renting, delivery and pick-up.

If more than two mobility equipment is booked, the total price will be less. In this case the transport costs will be calculated only once.

You receive a € 10,- discount on your mobility equipment when your accomodation is booked through Accessible Travel Netherlands as well.
Please indicate which mobility equipment you need when you send the travel proposal form.
Please inform your accommodation about the delivery of the equipment and provide them with the name you booked the accommodation and equipment with.

Make sure a person at the accommodation can receive and store the equipment. If you are staying at an apartment, the owners are not always present, make sure they are when the equipment is delivered. If there is no one available to accept the equipment, the driver will not deliver.

Last minute requests
In order to be guaranteed to have your equipment delivered at your accommodation, reserve latest 5 workdays in advance.

For last minute requests received 72 hours before delivery (3 working days) an additional fee of € 20,- will be charged. When you send a request less than 72 hours in advance, we cannot guarantee delivery, but we will try our best!

Mobility equipment cannot be delivered on Sundays or national holidays.
Accessible Travel Netherlands
Request a non-binding travel proposal for your dream holiday to the Netherlands.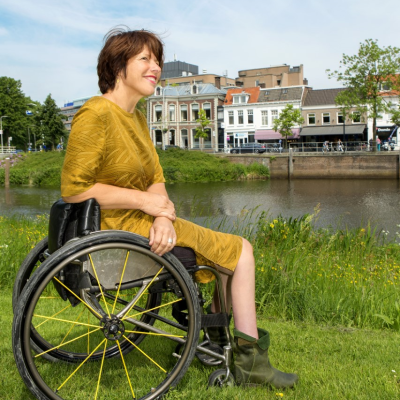 All our mobility equipment