Rent a foldable mobility scooter
Rent a foldable mobility scooter! It can be delivered in Amsterdam or elsewhere in the Netherlands. We can provide collapsible (detachable) mobility scooters with 3- or 4 wheels. The scooters are delivered fully charged and come with a battery. The prices include the rent, delivery and pick-up of the mobility scooter.

Prices includes renting, delivery and pick-up.

If more than two mobility equipments are booked, the total price will be less. In this case the transport costs will be calculated only once.

You receive a € 10,- discount on your mobility equipment when your accomodation is booked through Accessible Travel Netherlands as well.
Please indicate which mobility equipment you need when you send the travel proposal form.
Please inform your accommodation about the delivery of the equipment and provide them with the name you booked the accommodation and equipment with.

Make sure a person at the accommodation can receive and store the equipment. If you are staying at an apartment, the owners are not always present, make sure they are when the equipment is delivered. If there is no one available to accept the equipment, the driver will not deliver.

Last minute requests
In order to be guaranteed to have your equipment delivered at your accommodation, reserve latest 5 workdays in advance.

For last minute requests received 72 hours before delivery (3 working days) an additional fee of € 20,- will be charged. When you send a request less than 72 hours in advance, we cannot guarantee delivery, but we will try our best!

Mobility equipment cannot be delivered on Sundays or national holidays.
Please note:
We have our own detachable mobility scooter to rent out, this is a Colibri 4. If availability allows, we will deliver this mobility scooter to the indicated address.
If the Colibri 4 mobility scooter is not available, we will deliver a mobility scooter from one of our trusted suppliers. After receiving your request, we will request the mobility scooter with the specific supplier and confirm as soon as possible.
In high season, there's a high demand for mobility scooters, so we recommend booking early.
Technical specifications Colibri 4 mobility scooter
Weight: 44 KG (including batteries)
Weight of heaviest part: 9 KG
Lengt of scooter: 101 CM
Width of scooter: 50,5 CM
Turning circle: 110 CM
Maximum pace: 8 KM per hour
Maximum weight of user: 135 KG
Reach: 11 KM
Collapsible / portable: yes
Included: basket and keys
Accessible Travel Netherlands
Request a non-binding travel proposal for your dream holiday to the Netherlands.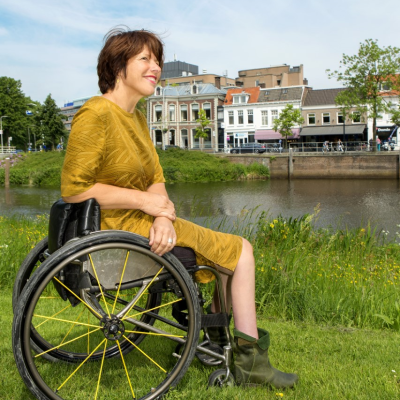 All our mobility equipment